Open Broadcasting Software (OBS) is an open source streaming software which provides broadcasters control to configure stream settings and customizable plugins so they can enhance viewer experience.
Click here to read more about external encoders and OBS on Chaturbate

Click here to view the technical information for RTMP/OBS streaming on Chaturbate

Click here to see how to view your OBS broadcast and Chat at the same time
Getting Started with OBS on Chaturbate
Download OBS Studio
Set Up Authorized Chaturbate Stream Key
Configure OBS Settings
Download OBS Studio
Set Up Authorized Chaturbate Stream Key
Go to the Broadcast Yourself tab (https://chaturbate.com/b/)
If you see the in-browser broadcaster page, click the "Use External Encoder to Broadcast" link.
Click the "View RTMP/OBS broadcast information and stream key"

4. Click "Generate New Token" if you have not yet generated a token.
5. Copy your broadcast token (long string of letters and numbers in grey)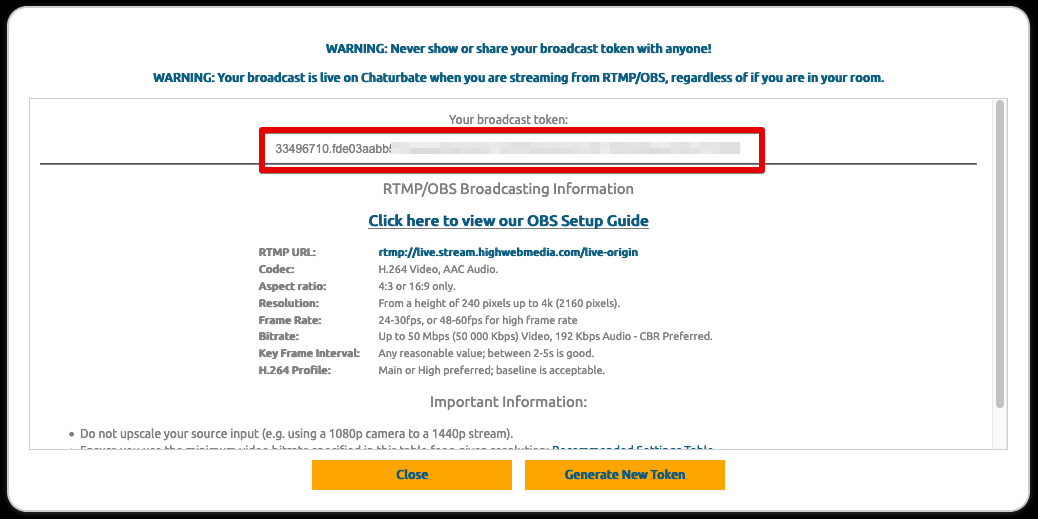 6. Paste your broadcast token in the Stream Key field on the Stream tab of OBS settings.

Configure OBS Settings
We recommend starting with resolution of 720p and 3000 kbps bitrate and adjust your settings based on performance. Do not use a higher resolution than your camera. See below for information on selecting a resolution.
Stream Settings
In OBS Studio select Settings > Stream
Select "Show all services" to display Chaturbate in the "Service" dropdown
Select "Chaturbate from service list
Select server "Default Global Auto Select - Recommended"
Enter your stream key obtained from your broadcast page in Chaturbate.
Output Settings
On the "Output" tab enter the following settings:
Video Bitrate: 3000

Video Settings
Base Resolution: 1280x720
Output Resolution: 1280x720
FPS: 30

Select Camera
In the Sources section in the OBS Studio click the plus icon to add a new media source.
Select "Video Capture Device" to select a webcam.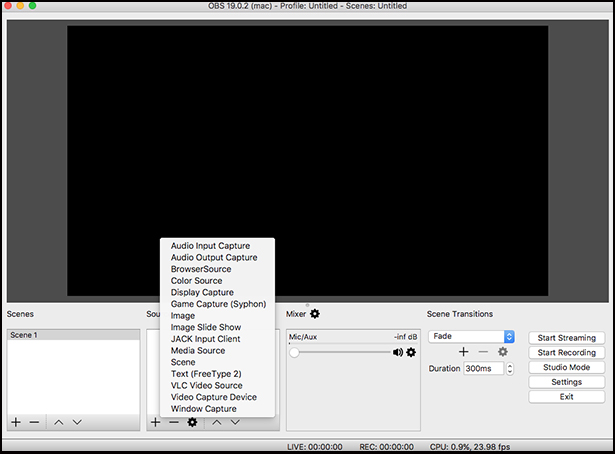 3. Select your camera from the devices list.
Select the resolution to match your base resolution previously set, if this is not supported lower your base resolution.
Expand the camera to fill the base canvas.
Broadcasting with OBS

When you are ready to broadcast live to your viewers, click "Start Streaming" in OBS. Ensure you are ready to be seen, because whether or not you are logged into Chaturbate your room will now be online.
The player window will show the status of your broadcast. If your room is online, you will see "Your OBS stream is currently public." This will update to "private", "group", and "hidden" based on your current show.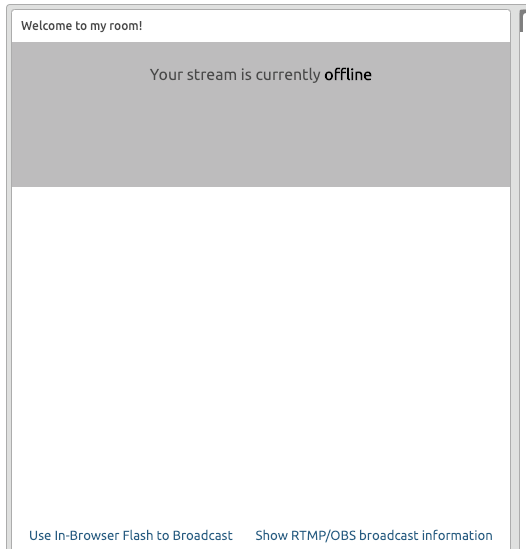 At the end of your broadcast, click "Stop Streaming" in OBS. Only closing your Chaturbate browser or logging out will not end your broadcast!

Advanced Configuration Information
Selecting Resolution
Find the max resolution of your camera, for example the Logitech C920 is 1920x1080

Check your upload bandwidth at http://chaturbate.speedtestcustom.com/.
Select a resolution that is no greater than that of your camera and as high as your internet can support.



| | |
| --- | --- |
| Resolution | Minimum Upload Bandwidth Needed |
| 853x480 | 2mbps |
| 1280x720 | 5mbps |
| 1920x1080 | 10mbps |
| 2560x1440 | 16mbps |
| 3840x2160 (4K) | 30mbps |

On the Video tab in OBS Settings, enter your resolution in Base and Output resolution fields.

Select an FPS value. We suggest starting with 30 and adjusting as needed.

These are the recommended settings per resolution. Do not use a higher resolution than your camera. If you have the available bandwidth you can use a higher bitrate for the same resolution. Higher bitrate and FPS require more bandwidth and processing power on your computer. If you are unsure of what your system can handle, start with the default settings below and then adjust based on your stream quality.

| Resolution (WxH) | Video Bitrate | Audio Bitrate | FPS |
| --- | --- | --- | --- |
| 853x480 | 800 - 1200 kbps | 96 kbps | 24 - 30 |
| 1024x576 | 1200 - 3000 kbps | 96 kbps | 24 - 30 |
| 1280x720 | 3000 - 5000 kbps | 96 kbps | 24 - 30 |
| 1920x1080 | 5000 - 8000 kbps | 128 kbps | 24 - 30 |
| 2560x1440 | 8000 - 12000 kbps | 192 kbps | 24 - 30 |
| 3840x2160 | 12000 - 20000 kbps | 192 kbps | 24 - 30 |
Output settings can be configured in the Output tab of OBS Studio
Enter the video bitrate appropriate for resolution that your internet bandwidth is capable of.
Enter the audio bitrate.
In "Advanced Encoder Settings" the default encoder preset is "Very fast." This can be lowered if your CPU usage is too high. However we recommend changing the resolution or bitrate before going any higher than superfast
For the Encoder, we recommend Quicksync over NVENC over Software (x264) if your computer supports them. The former two will use your GPU instead of the CPU of your computer.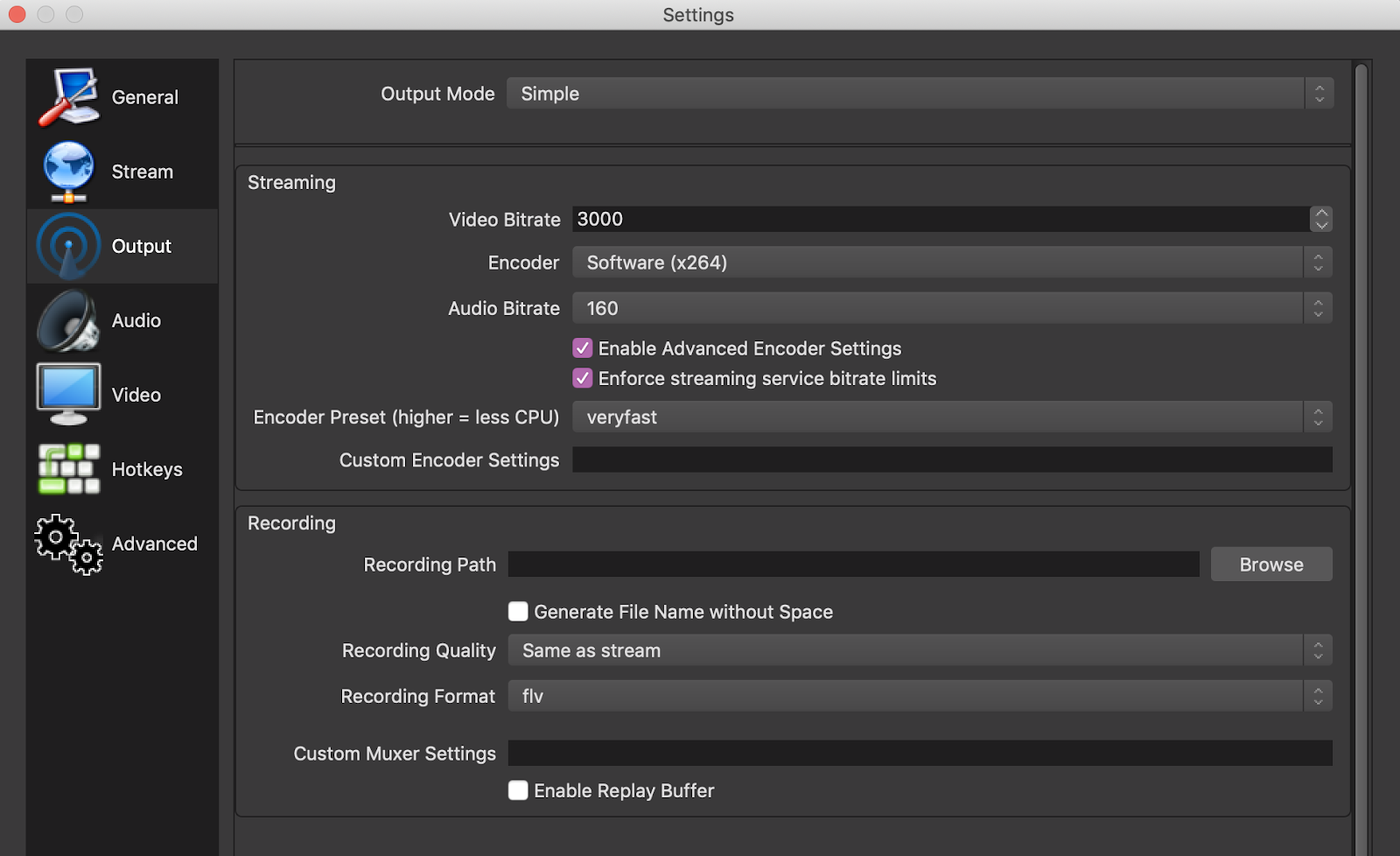 Important Information:
Do not upscale your source input (e.g. using a 1080p camera to a 1440p stream).
Ensure you use the minimum video bitrate specified in this table for a given resolution (see above sections)
You may only have copyrighted content -- including music, movies, and video games -- in your stream if you are the rights holder or have the permission of all rights holders.

Troubleshooting
Reading OBS Status

When streaming, OBS will show a status bar on the bottom of the screen that will help indicate if your stream is working correctly. This is an example of a good broadcast state, no dropped frames and a green status:

If your CPU cannot keep up with the video encoding you will see something like this:

In this case you need to increase your encoding preset in Output settings to a higher level (e.g. to superfast). If this doesn't help you will need to lower the resolution of your stream.

If your internet is not sufficient to stream at the bitrate you selected, you will see something like this:

The color of the status will change from green to yellow, orange or red. If this persists you will need to lower the bitrate; which may involve lowering the resolution. Please refer to the bitrate range per resolution table above.
Could not access the specified channel or stream key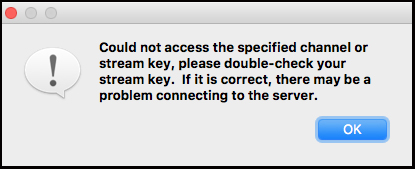 If you see the above error when you click "Start Streaming" in OBS, check the following:
Ensure you copied the OBS token correctly and have the most recent token. Generating a new token will invalidate your previous token.
Stop your in-browser broadcaster stream. You cannot stream on OBS if you are currently broadcasting with the in-browser broadcaster.
Your OBS stream is currently offline
If your player does not detect your stream, restart your OBS stream by clicking "Stop Streaming." Wait a few seconds and then click "Start Streaming"
Check that your token was copied correctly.